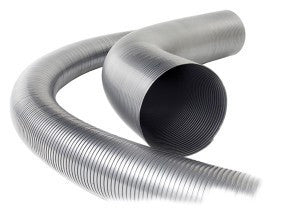 Forever Flex 304L Hybrid Smooth Wall Chimney Liner Only
The choices for stainless steel chimney liners are endless, but year after year Olympia's Hybrid Liner System has taken the cake. The reason is simple, Hybrid liners are better quality, easier to install and will perform better than any other chimney liner on the market… PERIOD!
Here are some reasons why…
Manufactured from heavy duty .010 stainless steel (compared to many other brands that use .005, its about twice the thickness!)

More flexible than other liners with no memory (you no longer have to worry about kinking or denting these liners, they wont!)

Smooth inner wall for better draft and easier cleaning (other brands may have deep corrugations that make creosote buildup impossible to remove)

Olympia's Forever Warranty covers all fuels, wood, gas and oil!
UL/ULC listed to UL 1777 & ULC S640 standards

 

Check out our guide to installing a flexible chimney liner. 
These length and price combinations represent the best deals on a per foot basis. All chimney liners are available in any length you require. However, if you need less than 50 feet it will be cheaper to size up and cut the liner to fit. We can also fabricate liners for 9, 10, 11, 12,  14, and 16 inch diameters to fit any flue. Please give us a call for custom orders to verify all information is correct as the return policy varies for custom orders.  
---
We Also Recommend
---