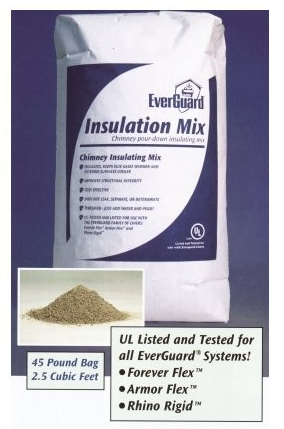 EverGuard Pour Down Chimney Insulation Mix
EverGuard Pour Down Chimney Insulation Mix
In some installations this is the best way to provide an insulation factor. For solid-fuel chimneys not meeting code, 1" of EverGuard Insulation Mix between masonry and the liner provides for zero clearance between the exterior of the masonry and combustibles. When insulating oil and gas installations, no minimum thickness is required but it is a great way to reduce condensation and stabilize draft. Sometimes in those tight-clearance chimneys EverGuard Insulation Mix is the only insulation possible. The proprietary mixture in EverGuard is the strongest on the market and also dries faster. It is UL1777 listed and tested for zero clearance with all Forever Flex, Armor Flex and Rhino Rigid Chimney Liners. 
How Much Do I Need?
Multiply the inside dimension of the chimney (in inches).
Subtract the area of the liner.
Multiply this number by the chimney height (in feet).
Divide this number by 461, the answer is the number of bags you will need. 
Everguard insulation mix is a ready mix, vermiculite based insulation material. Simply prepare by gradually adding 4-7 gallons of water. When the insulation is properly mixed, it will hold together when squeezed in your hand, and no water should come out. Pour the mix around the chimney liner, while shaking the liner slightly to let the mixture settle, then let it solidify.
This pour-down insulator is an alternative insulating method to using Super Wrap. Great for tight fitted lining jobs or insulating after a liner has been installed.It's easy to work with. It will fill dangerous voids and cracks in the masonry work while strengthening the chimney walls.
It cures into a lightweight, semi hard mass that supports a liner in the chimney and forms a thermal barrier that keeps the flue gases warm.
This product adds performance to your liner and is very durable. It is UL listed for zero clearance to combustibles. The mix eliminates moisture buildup between the liner and the chimney structure. It is accepted by building code officials, and what's better is that it can also be removed.
One bag weighs 45 lbs and covers 2.5 cubic feet.
---
We Also Recommend
---